We are a NAPA Certified Service Center. That means that above and beyond our personal guaranty, you are assured full warranty coverage for any and all work we do for you at Windsor Auto Repair.
The Windsor Chamber of Commerce has honored us three times with the Customer Service Award (2006, 2007, and 2008). We think that says a lot about who we are. We are meticulous in our work so that we can be comfortable standing behind our warrantied repairs. If you do it right the first time, everyone wins, and that's the key to our success at Windsor Auto Repair.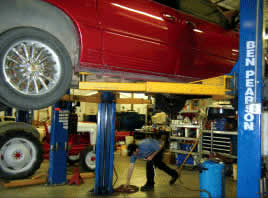 We also happen to be the only AAA member service provider in town. AAA members are welcome to use their benefits at our shop if necessary.
Bottom line: if you're in need of fast, accurate automotive repair services, give Windsor Auto Repair a try. Call 970-686-7705 for an appointment. Take advantage of our loaner cars and free shuttle service when needed and rest assured that your satisfaction is our number one priority!