Windsor Auto Repair Does Oil Changes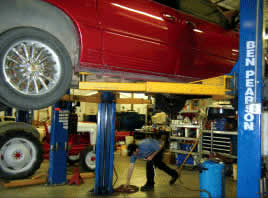 We're often asked if we perform simple maintenance like oil changes. We absolutely do! We want our customers to know they have a terrific option for local oil changes in Windsor.
Bring your vehicle into Windsor Auto Repair and we will do a full safety check and oil service for a reasonable price. We don't really even call it "simple" oil change, because engine oil is one of the essential components to preserving your engine. It simply will not run without the proper oil.
Why trust your car to a high school student at one of those assembly line oil change shops when you can bring it into Windsor Auto Repair instead? Our NAPA Certified mechanics take every job seriously, and we will happily change your oil and service your fluids as part of the routine maintenance you have us do.
How Much Do Oil Changes Cost?
Oil change cost will vary depending on a number of factors, but the three main ones are the type of oil you want us to use in the oil change, how much oil your engine needs and the type of oil filter required.
We use high-quality oil and filters, but we also recognize that vehicle owners can have particular preferences for their motor oil, and even vehicle manufacturers occasionally require certain classes of oil to preserve the warranty status, so we are flexible.
Most synthetic oil these days is high-quality and meets all the oil specs on a modern car engine.
Windsor Auto Repair Oil Change Process
Check existing oil and filter for problems
Check and top off any and all other fluids
Change the oil and filter
Run the engine and check for any leaks
We will take the same care of your car for an oil change that we do for any other issue you call us for. Schedule an oil change near you now: